MUNICH'S MOST BEAUTIFUL CHRISTMAS MARKETS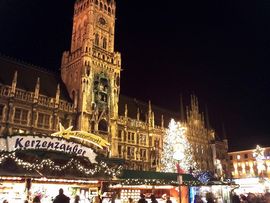 The most beautiful Christmas markets in Munich
The aromas of roasted apples wafting through the air, the steaming mulled wine warming our hands, children's eyes sparkling with anticipation and joy, and Christmas lights twinkling as far as the eye can see: this is Christmas market season in Munich! The Platz Hotel team always looks forward to this time of the year and it's just getting started here in the Bavarian capital. The selection of Christmas markets in the city is as diverse as it is large. We present some of the most beautiful here:
<link http: www.weihnachtsmarkt-marienplatz.de _blank>
Christmas Market Marienplatz
Let's start with the most well-known, oldest and largest Christmas market in the Bavarian capital. The Marienplatz Christmas market is just five minutes by foot from the Platzl. Every year, some three million visitors from around the world descend on the more than 150 booths and huts built directly in front of Munich's majestic Town Hall. In addition to festive taste treats such as mulled wine or the brand-new mulled beer, the market features arts and crafts, gifts, ornaments and clothing. There's also always a varied and interesting entertainment programme.
<link http: www.dasweihnachtsdorf.de _blank>Christmas Village in Royal Residence Courtyard
Framed by the illuminated façade of Munich's royal palace, this Christmas village offers a truly unique atmosphere. The rustic huts with stone décor and authentic shingle roofs do justice to the market's name: it looks like a small, idyllic farming village standing right at the centre of Munich less than ten minutes' walk from the Platzl.
<link http: www.mittelaltermarkt-muenchen.de mittelaltermarkt_html_2014 seiten start_en.html _blank>Medieval Market with Advents Spectacle
The Middle Ages are back this Advent in Munich, at least at Wittelsbacherplatz where the annual medieval Christmas market is held. Feast like it's 1399 and enjoy roast suckling pig, smoked char, elderberry juice and much more. Admire the goods on offer that are produced exactly as they were by guild craftsmen centuries ago. Just a short ten minutes' walk from the Platzl will take you back six centuries in time.
<link http: www.schwabingerweihnachtsmarkt.de index_en.html _blank>Schwabing Christmas Market on Münchner Freiheit
The Schwabing Christmas market on Münchner Freiheit is all about alternative and artistic items. This market offers a fascinating alternative, especially with its daily changing music programme and the arts and crafts on offer. Public transport will take you to the Schwabinger market in about ten minutes from the hotel.
<link http: www.weihnachtsmarkt-chinaturm.de _blank>Christmas market at the Chinese Tower
This Christmas market is particularly nice as a break during a contemplative winter walk through Munich's English Garden. It is also reachable by public transport from the Platzl in less than 20 minutes. The famous Chinese Tower stands in the middle of the English Garden as one of Munich's many landmarks. This time of the year, it is surrounded by festively decorated stalls offering Christmas market classics such as ornaments, nativity figures and a nice selection of sweet and savoury treats. A romantic carriage ride that starts directly at the market is another charming option here.
Picturesource: <link https: www.flickr.com photos caseyhugelfink in photolist-thabf-thzqg-937dkd-936wnd-istsou-thztc-dgakfh-dxdnzw-dx89gc-b2f2dx-937wbd-938be6-93ahv1-937tih-9395wp-939oxv-93cmbj-azjyng-am9khz-938uch-b2f2g8-4h6kbp-4haovw-4haom9-4haogh-b2f3u2-b2f2xz-b2f3fc-dgv6wm-dgpett-dgv7n3-ionw1n-ionk9q-ioptp1-iopfmg-ionmhz-ionm3j-iond3j-ionz2w-iop5ep-ioq5nm-ionzqz-ioncmm-iopvjv-iopcq9-ionudj-iopese-iopzjb-iopcag-iop3bg _blank>Weihnachtsmarkt: von Casey Hugelfink / flickr.com