PUMPKIN CHUTNEY RECIPE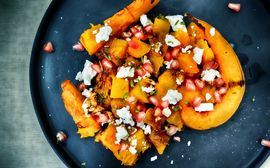 Autumn represents the harvest season, and therefore, it is the perfect time to use fresh ingredients. Especially popular is pumpkin, which is as healthy as it is versatile and is ideal for soups, salads, or cakes. However, even more eccentric dishes can be prepared with this orange-coloured vegetable. For example, try our pumpkin chutney! You can find the recipe below. Give it a chance and tempt your palate with the sweet autumn spices!
To prepare our pumpkin chutney, you will need:
• 5 kg of pumpkin
• 200 g of onion
• 150 g of apples
• 50 ml of olive oil
• 120 g of sugar
• 300 ml of apple juice
• 50 g of ginger
• 80 ml of white balsamic vinegar
• 1 bag of spices containing caraway, mustard seed, cinnamon, cloves, and bay leaves.
First, lightly caramelise the sugar. Add the diced pumpkin, apple, and onion to the olive oil. Pour in the apple juice and balsamic vinegar, add the bag of spices, and cook on low heat with the lid on.
For a slightly sharp and fresh flavour, finely grate and peel the ginger and add it at the end. Flavour with salt, pepper, and cayenne pepper. This is as simple as it gets!
Have fun enjoying it! This chutney goes well with game dishes and terrines.