Welcome to the Munich Kulturherbst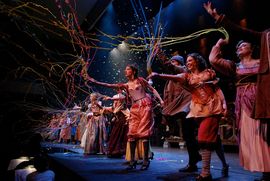 The residents of Munich love autumn - the array of colors, the rustling of leaves and that fuzzy Oktoberfest feeling... Despite the strong temptation to cozy up under the covers with a good book and a cup of tea, people are lured out into the town. Autumn in Munich is made up of one cultural highlight after another. Here is some advice on those must-see events:
Lange Nacht der Münchner Museen (The Long Night of Munich Museums)
If the lights are still shining brightly through the windows of the Munich museums long after the sun has set and the streets in front of the galleries are filled with hustle and bustle, you know it is that time of year again: the Long Night of Munich Museums. The 19th edition of this city's popular event will take place on the 14th October 2017. Between the hours of 7 pm and 2 am, you can visit as many of the 90 participating museums as you desire. Gallery hopping is made quick and easy with special shuttle buses.
Auer Dult
There's hardly any other event as good as a classic 'Dult' for experiencing traditional Bavarian festivities. And the most well-known of them all is the Auer Dult taking place in Munich's Mariahilfplatz three times a year (Spring, Summer and Autumn) – the Autumn edition from the 14th to the 22nd of October. You can expect traditional colorful dress, festivities, tasty treats, beer, souvenirs and amusement rides that will make your heart quicken!
Munich Literature Festival
Immerse yourself in the world of books. There is plenty of opportunity to do so at the Munich Literature Festival from the 15th November to the 3rd December. There are readings, exhibitions and workshops taking place at nine different venues located around Munich to help you get inspired! The best-selling author Doris Dörrie is just one of many giving a presentation at the festival.
Tollwood Winter Festival
"All of us, together": this year's motto for the Tollwood Winter Festival has the vibe down to a T. Inter-cultural exchange, freedom, democracy and solidarity: now, as always, these are central themes of the Tollwood festival. And these are expressed in the international selection of food, as well as in the array of artists at the event, the "Market of Ideas" and the "Weltsalon", a platform for social and environmental issues. The event runs from the 13th November to the 31st December (market runs until 23/12).
The Autumn Package at the Residenztheater
Theater lovers can also get their money's worth during the Munich Kulturherbst. The Residenztheater has brought back their special Autumn package for the 2017/18 season. For prices starting as low as 33 euros, you can see three different shows. You can find more information on this amazing offer by visiting.
Image Source: Pixabay