With us, good wine is not just cooled anywhere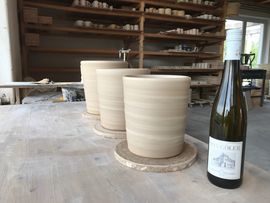 Lothar Geiger – Ceramic art from Bavaria
20 kilometers north east of Augsburg, in idyllic Adelsried, Lothar Geiger has his workshop. Small handmade art works are made here everyday, from ceramics and stone - from bread crocks to Japanese tableware, right up to pots for the garden. In all of his pieces, the elaborate handicraft process is unmistakeable, and it is precisely that, which makes the special charm of Lothar Geiger's pottery stand out. Before opening his workshop, he perfected his technique while staying in the Japanese ceramics stronghold of Okayama for several years, amongst other places.

Ceramic wine coolers - especially for the Restaurant Pfistermühle
This strong focus on originality and handicraft ultimately convinced us, to commission Keramik Geiger to make our wine coolers. These are traditionally "pulled up" on the spinning potter's wheel. This millennia old technique is reflected in the end product, in the form of the characteristic turning grooves - an absolute quality characteristic.
On the surface, the mill wheel of the Pfistermühle is discreetly resplendent, which was also applied by hand using a fine slip trailer. And subtle Japanese influences shine through in the style of the cooler which we now have the first 30 copies of in-house.
Would you like to hold our wine coolers in your hand? Then order a good bottle of white wine after the re-opening of the Restaurant Pfistermühle. We are looking forward to welcoming you!