Winter sports in Munich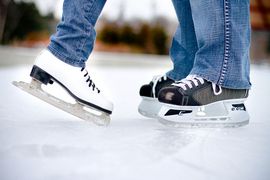 The days are getting shorter, the temperatures are heading towards freezing point. There are various possibilities to warm up. For example you could curl up into a ball on the couch, or you could try to warm up with a hot mulled wine at the Christmas markets. On the other hand, if you like to be a little more active, you are lucky to be in Munich: The city offers plenty of options for sports in winter. It not only keeps you warm, but is also fun!
Ice skating
Ice princesses and ice princes will be in seventh heaven here. Numerous ice skating rinks open during the winter months, both for experienced ice skaters and those that are putting their skates on for the first time. We particularly recommend the Prinzregentenstadion, the Münchner Eiszauber at Stachus or the ice rink of EHC Red Bull Munich at the Eissportzentrum Olympiapark. A special atmosphere waits for you at Schloss Nymphenburg – on the canal and roundel, you can not only ice skate but also play Bavarian curling. Which brings us to the next topic…
Bavarian curling
In summer after work, many Munich residents enjoy a cold beer in the beer garden. In winter after work, there is hot mulled wine, and the beer garden furniture gives way to prepared ice rinks. Some of the nicest Munich beer gardens invite you to play Bavarian curling in these winter months - for example the Augustinerkeller or the Löwenbräukeller. Also at the Chinese tower there is plenty of curling going on, and afterwards you can stroll through the Christmas market.
Sledging
Munich has the most snow out of any big city in Germany, which makes children very happy. Apart from building snowmen in the park, the little ones can really let off steam sledging. And there are plenty of hills in the Isar metropolis. Above all of this stands Munich's highest "mountain" in the Olympiapark, but also at Monopteros at the Maximiliansanlagen or in the Luitpoldpark sledging fun is guaranteed.
Skiing
You cannot ski in Munich itself, but you can get to lots of beautiful skiing regions within an hour. Perfect for an active wintry day trip. Just 60 kilometers from the Bavarian regional capital, is idyllic Lenggries with 34 kilometer runs and 19 lifts. The skiing region of Garmisch is also easy to get to from Munich, and is impressive with 40 kilometers of piste and four valley ski runs. You can find further skiing regions around Munich. Our hotel desk clerks are happy to give you suggestions.
Picture source: https://commons.wikimedia.org/wiki/File:Kiss_the_ice.jpg