THE PLATZL GASSEN IN MUNICH'S OLD TOWN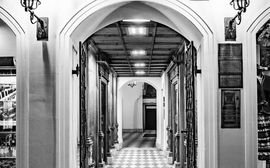 Right in the heart of Munich, in the immediate vicinity of the Platzl Hotel are the medieval Platzl Gassen, which together with numerous idyllic courtyards characterise the old part of Bavaria's capital.
The 1980s saw not only the construction of the Platzl Hotel on the Platzl, but also the renovation of one of the oldest architectural ensembles in Munich at the corner of the Platzl and Pfisterstrasse. The Platzl Gassen which were part of this development celebrated their grand opening on 25 October 1988. Particularly noteworthy are the houses at Platzl nos. 2 and 3 with their famous "Ohrwascheln", asymmetrical roof extensions for attaching cranes. The properties show the close construction of buildings typical of Munich both past and present, with deep, narrow plots with several parts to each building.
This area has been vibrant for many centuries. Countless artists, craftsmen and civil servants all once lived and worked in the Platzl Gassen; even the powerful Degenberger family had its residence here for a while. Today throngs of tourists flock through these streets daily on their way to the most famous beer hall in the world, the Hofbräuhaus. In addition to the Hofbräuhaus, select stores, original souvenir shops as well as local and international restaurants have all found homes in the Platzl Gassen. For example, you can enjoy excellent dining at the Schuhbecks Restaurant and then learn how to prepare these delicious recipes at its cooking school.
A special tip: As you take a leisurely stroll through the narrow lanes, make sure to turn from the Platzl into Pfisterstraße, where you can take a look at the Alter Münzhof (Old Mint Courtyard), one of the most beautiful Renaissance arcaded courtyards in Germany.