THE HOFSTATT – A NEW SHOPPING BOULEVARD IN MUNICH'S CITY CENTRE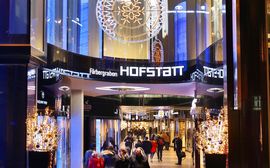 In April 2012, the City Council decided to turn the part of the street between Hackenstrasse and Färbergraben into a pedestrian zone. At the same time, the City Planners planned a new shopping passage for the area, the "Hofstatt". Work began in mid-2012 to convert the former Süddeutsche Zeitung / Abendzeitung building into a shopping centre.
The aim is to turn the multi-level building into a mixed-use shopping complex of 18,000 square metres housing offices, apartments, gastronomy and retail stores. Munich will thereby extend its wide range of shopping opportunities with top names such as Adidas, Bartu, Gant, Depot or Humanic. An American trend label which has till now not been represented in Munich, Abercrombie & Fitch, has also opened its flagship store in the Hofstatt at the end of 2012. The queues which eagerly await the opening of the imposing doors in order to visit the 3,000 square metres of shopping opportunities demonstrate that the Hofstatt will be a positive extension of the popular pedestrian zone in the Kaufinger Strasse. The conversion should be completed by the beginning of 2013, when Munich will become another point in shopping attractiveness.
The shopping boulevard will feature several special points, such as the artificial stone slabs used for the ground surfaces. These, with anthracite coloured basalt strips, will make the street surface sparkle. Another particularity is the ban on street planting for the whole Sendlinger Strasse, in order to underline Middle Age origins of Munich's historic centre. The project to redesign the street will cost around 1.1 mill. Euro, and will ensure enough opportunity for leisurely strolling and shopping in Munich's beautiful and old city centre.
If you cross Marienplatz immediately after leaving Platzl Hotel Munich, you will be in Sendlinger Strasse within a few minutes.