OUR NEW F & B MANAGER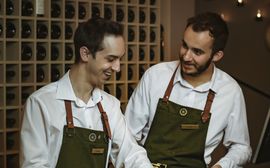 The team from the Platzl Hotel Munich gladly presents the newest member of the hotel family. Since 1 April, Stephanie Schmidt has been with us as our new F & B manager. She is responsible for all dining facilities at the Platzl Hotel. These include both the banquet and meeting area of the four-star hotel as well as the Restaurant Pfistermühle and the Wirtshaus Ayingers.
Before arriving at the Platzl Hotel, the 34-year-old gained valuable experience in the F & B sector. After her education in hotel management at the Hotel zur Krone in Pappenheim (in which she later worked as a clerk), she was employed as a service associate in the Hilton Hotels Kensington, Olympia, and Hyde Park. She then moved to the Hilton Munich Park Hotel, where she built on her experiences in the F & B sector. Ms Schmidt later worked as operations manager in the café of the BMW Museum as well as a restaurant manager at the Sheraton Arabella Park Hotel. Most recently, she was F & B operations manager at the Westin Grand Munich where she was responsible for the banquet area, the seven outlets, the executive lounge and the room service.
Both the team and our guests are happy to welcome such an experienced staff member. The entire team welcomes you most cordially, Ms Schmidt!