Major Investment on 60th Anniversary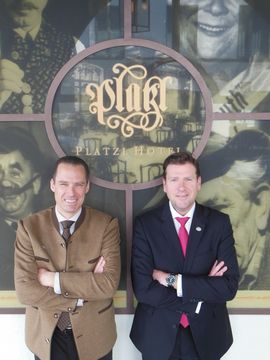 On October 20th, we made it official in the AHGZ (Germany's only weekly newspaper for the Hotel and Catering Industry): The modernization of the Platzl Hotel is being continued on a grand scale. The Platzl operators are investing 4 million euros. And the timing of it could not be better – after all, we are in the middle of an anniversary year. Thus, the proud investment is, if you will, a self-made birthday present to mark our 60th anniversary.
The Platzl Hotel – Always keeping an ear to the ground
Right at the opening of the Platzl Hotel in 1956, the operators made their mark: At the time, no other Munich hotel had a central radio system that supplied each of the 130 rooms with music and news. Thereafter, time never stood still at the Platzl Hotel – in the following decades, major changes, innovations and improvements on a regular basis have been made. Thanks to this the tradition-steeped hotel has remained an important player on the transient Munich hotel market to this day.
Modernization of all 167 Rooms
After the entire conference area was renovated last year, the complete renovation of the guest floors begins in January 2017. This means that we are modernizing each of the 167 guest rooms as well as the corridors on all floors. Look forward to state-of-the-art technical amenities, a brighter look and a style that combines the original Munich style with contemporary style elements.
60 Years Platzl – The big celebration takes place at the End
The renovation process will last four months before we can present the result to you in spring 2017. In addition, brilliant anniversary activities await you for the time of the "transformation," such as our September special with "60 rooms at 60 Euros" or the Platzl theme at this year's Sparkling Munich in November. The highlight of all the activities will be the big anniversary celebration at the end of the modernization. Celebrate with us an even more modern Platzl that has never forgotten its traditional values.