Introducing: Verena Breitsameter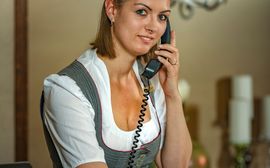 Ms. Breitsameter, thank you for taking the time to answer our questions. You manage the department of Service Coordination at the Platzl Hotel. How can people envisage this position? What do your daily tasks look like?
Our "Service Coordination" is the central interface at the Platzl Hotel. All telephone calls and e-mails come to us, and are directly passed on to the relevant departments and/or dealt with by ourselves. We are available to our guests even before their stay, with everything from chauffeur bookings, to ticket ordering right up to table reservations, and any other concerns. Even after departure, we are the first point of contact for queries or other matters.
Our domestic staff and valets are also an important part of my team. They are always on hand to support our guests during their stay. My main role is to ensure a flawless process in my department, and to offer an unmistakable service, together with my team.
How long have you been working at the Platzl, and what do you like best about it?
This year, I am celebrating five years at the Platzl. It is simply the personality of the Platzl Hotel, that makes it easy for me to feel at home here. Also, the appreciation that is shown towards everyone who works there makes a big difference.
At the Platzl, the sincerity and authenticity of the employees is very important. How do you manage to get the employees to remain sincere, even in stressful phases of the working day?
Our employees live our values, so it is not difficult to maintain a positive attitude and radiate this, even in the hustle and bustle of everyday work. When you feel at home, and are passionate about your work, the sincerity comes by itself.
You and your team always have the right tip for guests, and there is a great deal to see in Munich. What is your favorite way to spend your free time, in the world city with a heart?
I love to spend my free time finding quiet corners of Munich, provided there is coffee and a sunny spot :-)