"Green Key"– A further eco-label for the Platzl Hotel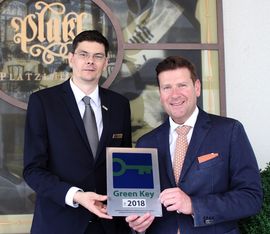 What is the "Green Key"?
The international environmental award "Green Key" is conferred by the Foundation for Environmental Education (FEE). The FEE is a non-governmental, non-profit organisation that supports "sustainable development through environmental education". It has been active since 1981 and functions as an umbrella organisation in more than 60 countries. In approximately 30 of these countries, the "Green Key" is awarded as one of the most important environmental certifications in the tourist sector.
"Green Key" goals and criteria
Among the concrete goals pursued by the "Green Key" initiative are the reduction of environmental pollution, cost reduction as well as educating owners, employees and guests about environmental and sustainability issues.
Each business that would like to receive the "Green Key" award must meet certain compulsory criteria such as, for example, the naming of an environmental officer, waste separation or regulated water use. Furthermore, there are optional criteria which should be fulfilled one after another in the further course of the certification.
What does the "Green Key" award mean for the Platzl Hotel and its guests?
As one of 1,800 tourist businesses worldwide, the Platzl Hotel holds a "Green Key". It is an honour, but one that requires constant reviews and quality assurance. A named environmental officer trains employees on a regular basis with the focus on a sustainable and environmentally-friendly way of working. And it is not just the environment that benefits, but also our guests. What is good for nature, can only be good for the body. This applies to gentle cleaning agents and detergents, just like to home-made dishes from sustainably cultivated foods. A nice extra for our guests who drive an electric car, we have two charging stations for electric cars in our underground car park.