Good Food not Fast Food - Restaurants Are Changing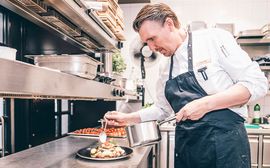 These countertrends often turn into entire movements and according to Holger Lange, our head chef at the AYINGER WIRTSHÄUSER AM PLATZL and IN DER AU, the restaurant industry is currently in the middle of such a movement – and he is happy about it. For many years, restaurants tried to outpace the competition with cheap prices and fast production. Now, more and more chefs and restaurateurs are returning to the traditional values of the industry. What is this shift all about? Holger explains!
The mentality within the restaurant industry seems to have changed. What do you think is the reason?
The mentality within the restaurant industry has definitely been changing, but our sector does not stand alone. You have to really consider society at large. Due to new technical possibilities, life is getting faster and more chaotic, which is why people have been increasingly speeding up their pace and optimising their lifestyles. At the same time more and more people have begun to question this "rat race" and are longing for deceleration and sustainability, focusing on crafts and thus satisfying the need for balance and down-to-earthness. I am sure the shift in the food industry is a product of this broader ripple through society.
Interesting! So you are saying the shift in the food and beverage industry happens because people need balance and grounding. Can you explain this idea a little bit further?
For starters, cooking is a craft that in theory anyone with a kitchen can practice. Also, people today are cooking more at home than people did ten years ago. Because when you cook, not only do you create something from scratch, but you also work with your hands. If you are successful and the food tastes and looks good, you feel a great sense of immediate satisfaction. Many modern jobs on the computer do not offer any of those things – so cooking seems to be serving as some kind of balancing activity. Furthermore, if you cook or bake yourself, you know all about the ingredients and can be sure that you will not be consuming any additives. That is sustainable and healthy!
How does that translate into professional cooking?
Very few hobby chefs, unlike trained restaurant chefs, have the skill, equipment or high-quality produce to create meals on a professional level. However, hobby chefs oftentimes only realize this after having dabbled in complex sauces, homemade pasta or sophisticated desserts at home. As there are more and more hobby chefs among us, more guests come to the restaurant not only hungry for good food, but also hungry for knowledge. They want to know how the professionals do what they themselves were not able to do. They are much better informed than guests a decade ago. They ask questions about cooking techniques, the origin of the produce and the whole creative process. This in turn spurs the chefs to develop fresh ideas, to refine dishes and to experiment with new products and techniques. Thanks to this new guest-chef-interaction, a mutual respect has developed that had gone almost extinct. Guests are once again considered capable and open to complex dishes, and creative chefs are seen as the artists they really are.
Does this make the chef profession more popular?
I most definitely think so. Cooking is one of the few art forms that is also a bread-and-butter business, in the literal sense of the word. Chefs are needed everywhere and can make a living, but at the same time, their creativity can be just as impressive as that of a painter or poet. Now that this artistic potential is recognized and appreciated more often, the chef profession becomes more attractive as well. On a more tangible note, cooking is and remains one of the few professions in which you use all your senses–something most people find deeply satisfying. In addition, culinary training opens the door to the world and to foreign cultures. Particularly young people from the countryside often cite wanting to see the world as their main motivation for becoming a chef. Of course, popular cooking shows with their charismatic TV chefs make a significant contribution to the image change as well. They serve as role models for ambitious young chefs and make lofty dreams of owning a restaurant, publishing a cookbook or having an own TV show seem more attainable. Last but not least, it certainly helps that the mood in the restaurant kitchen today is not nearly as tense as it used to be. Choleric chefs, tough hierarchies and a rough tone have largely gone out of fashion.
Do you notice an increased desire to become a chef also in the AYINGER WIRTSHÄUSER?
Absolutely. At the moment, we employ ten trainee chefs, and three new ones joined us this January. Fortunately, we don't have any problems finding new talent. I hope this is also the result of our good work and the good working atmosphere in both "Wirtshäuser". The Platzl Hotels which our businesses are a part of even won the Hospitality HR Award 2021 in the category "HR strategy, individual hotel business and gastronomy". This is great advertising and it confirms that we are on the right track, both in gastronomy and business.
You cited artistry as one motivation to become a chef. Is the creative potential not somewhat limited with "pup cooking" which would be a fitting translation for "Wirtshaus-Küche"?
It's true that pub cooking generally is a rustic, honest and straight forward kind of cuisine. But that doesn't make it boring and narrow-minded – at least not in the AYINGER WIRTSHÄUSER. It takes great creativity to craft something extraordinary with simple home-grown ingredients, that honors the local traditions. Of course, we serve the classic pork roast like the next Bavarian "Wirthaus", but guests taste the difference when they come to us. It's all about the nuances! That's where we get an outlet for our creativity. We want to tell a story and share a feeling with every dish. We want our guests to "understand" the Bavarian way of life with our dishes. You can compare them to a landscape they walk through with all their senses.
Thanks so much for your time, Holger. Surely after your passionate words, aspiring talents will flood you with applications and the "Wirtshäuser" will be buzzing.
Well, I certainly hope so :-)