A guarantee of a Good Night's Sleep!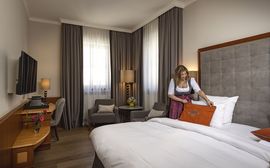 MÜHLDORFER – OUR TRUSTED PARTNER FOR REFRESHING SLEEP
As a hotel, there's nothing we like more than when our guests come down for breakfast in the morning well-rested and in a good mood, or when they come back from a busy day in Munich looking forward to sinking beneath the sheets, where sleep is like "floating on clouds". And, thanks to our partner Mühldorfer, that's a guarantee we can give. The PLATZL hotel beds do exactly what we want: they provide our guests with the most comfortable sleep they could wish for.
Exactly what makes the PLATZL HOTELS and the bedding company Mühldorfer a real dream team when it comes to healthy, refreshing sleep? Read our interview with Maximiliana Pangerl, managing director of Mühldorfer, to find out.
Mühldorfer beds and bedding stand for consistently high, unbeatable quality. What makes your products so special?
During the production of our down and fibre duvets, the focus is on enabling healthy, refreshing sleep for our customers and your hotel guests. The superb raw materials, such as our finest cotton and specially selected feathers and down washed in spring water from the Bavarian Forest, guarantee lightness, breathability, ergonomics, hygiene, durability and recyclability.
Just like us, you are a family-run business. How exactly is that reflected within your company and what are the advantages?
We are a family business that was founded in 1919 and is being jointly run by the fourth and fifth generations. A family enterprise that is over 100 years old, now in the 5th generation – that means a continual source of young, dynamic successors to the business. This is how Mühldorfer combines experience and tradition with zeitgeist and innovation, ensuring long-lasting, ongoing success.
You are one of the leading suppliers of hotel bedding. What exactly distinguishes hotel bedding from "normal" bedding in a private home and what are the most important considerations?
Mühldorfer hotel bedding is designed to guarantee a high standard of hygiene due to its washability. As well as this, it is easy for housekeeping to work with and offers the guest particularly pleasant sleeping conditions thanks to its hydrophilic features. Due to the many different products and models on offer, it is also possible to meet guests' individual needs.
Along with a comfortable bed, the right bedding is fundamental to refreshing sleep. What do you pay particular attention to here?
Good, refreshing sleep is not just a philosophy: it is a law of nature. It is only during the deep sleep phase that our bodies can regenerate properly, allowing us to remain fit and healthy in the long term. Mühldorfer bedding ensures that ergonomics, active moisture transfer, temperature regulation and hygiene combine to create pleasant sleeping conditions.
The right care and maintenance is vital when it comes to hotel bedding. How do you ensure a long product lifespan for the bedding?
Mühldorfer bedding can be washed at 60° or hotter, and is also dryer-safe. We provide individual washing instructions for each order we fill, making it easy for housekeeping to wash the bedding in the hotel's own washing machines.
A COMPLETE PILLOW MENU AND MUCH MORE BESIDES TO CREATE YOUR BESPOKE SLEEPING CONDITIONS
Our many years of experience have shown that good-quality sleep is the basis for a completely relaxing, revitalising holiday. This is why, upon request, we provide our guests with additional Mühldorfer bedding, such as neck support pillows for men and women, smaller, individual duvets, and mattress toppers in a choice of degrees of firmness. This is in addition to our standard bedding, consisting of one down pillow and one hypoallergenic pillow, and one high-quality premium down duvet per person.
At the end of their stay, our guests often want to know the secret of our comfortable beds, or even wish to purchase one of the products through us. What better proof could there be that we have chosen the perfect partner in Mühldorfer?