The Platzl anniversary year: A festive ending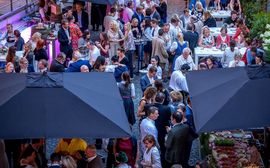 A different anniversary event every month
"60 rooms at 60 euros", our Oktoberfest competition, the anniversary dessert – we surprised our guests with exclusive offers and activities in the last few months. The response was great, and we had fun being creative. At this point, we would like to take the opportunity, to say a big thank you to everyone who took part in our anniversary activities. We received lots of funny pictures, good wishes and valuable suggestions.
Modernizations and conversion measures
As you may know from October's magazine article, we invested an impressive sum in the anniversary year. All 167 rooms and the corridors on every floor of our hotel, have been or will be modernized, one after another – a job that will be completed in May. You can look forward to new amenities, a lighter look and the unique modern Bavarian style of the Platzl Hotel.
We will toast to the past 60 years of Platzl Hotel and we will of course also be looking ahead to the new Platzl era, which is open to modernity, but never forgets the original and traditional.