THE BMW WORLD – ONE OF THE MOST POPULAR ATTRACTIONS IN BAVARIA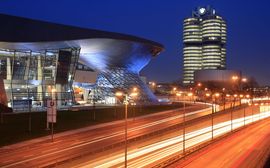 But also for all other visitors to the Bavarian capital, the architectural highlight is a popular destination. Because of this the BMW World is the most visited attraction in Bavaria with a record 2.8 million visitors in 2011. This success is thanks to the extraordinary architecture and well-thought out concept.
The building's architecture is called "dynamic," which is most apparent with the walls: there are hardly any vertical walls. This is demonstrated especially clearly in the 30 metre high double globes on the south east apex of the building, which are an impressive combination of steel and glass.
The ultimate concept of the BMW World is to create a meeting place for the company, the products, and the customers. Additionally it is a combination of exhibitions, an adventure area, a museum, and a venue for events. The exhibitions serve to educate people about the different aspects of the brand, for example automobiles or motorcycles. Customers who have ordered a BMW can collect it at the BMW World's transfer point. The company makes this a very special experience, with a lounge which is right in the middle of the building. From this the customers come to a transfer area via a separate staircase. In addition to this the BMW World also includes a museum which features exhibitions of other subject areas such as design, technology or motor sports. As well as this, exhibitions for Roadsters, BMW visions and BMW art cars are featured. The building is however not only used for the above named purposes, but also as a venue for events. A good example of this are the "Private Energy Concerts," in which young artists can perform in small groups with the collaboration of the radio station Energy. The opening concert for "the Long Night of Music" will also take place at the BMW World on 28 April, 2012.
For everyone interested, guided tours about different main focal subjects are also offered. A special highlight for BMW fans is the tour through the BMW factory!
The BMW World is open daily from 9:00am to 6:00pm and the museum is open from Tuesday to Sunday, and also on public holidays from 10:00am to 6:00pm.
There is more information here: www.bmw-welt.com