Sandra's passion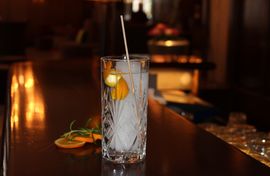 Sandra, thank you for taking the time to answer our questions. You designed the gin menu for the JOSEFA BAR, because you are such a big gin fan yourself. Where does this passion come from?
First of all, because I like to treat myself to a little gin and tonic now and again. I am also fascinated by the multitude of gins. Whether fruity, flowery, spicy or herby - there is something for everyone!
How exactly do the various types of gin differ from each other?
Perhaps I will start with what they all have in common: Gin is only gin, when it is distilled from juniper berries. For the rest of the botanicals there is no imaginable limit. Frequently, citrus fruits, fruits, flowers or herbs and spices are combined. This is where the characteristic flavor of every gin comes from.
What type is your favorite? And why?
My favorite is the Munich dry gin "The Illusionist", that I like to drink with a tonic from Thomas Henry and a sprig of rosemary. The slight rosemary note goes well with the flowery character of the gin's mace flavor. You have to admit, the "Illusionist" lives up to its name, because it even looks magical. Difficult to describe - it is best for you to try it out yourself. Why not on your next visit to the JOSEFA BAR? ;-)
Do you have a top preparation tip for our readers?
Gin is only rarely drunk pure. Which is why the mixer - usually a tonic - should also be chosen very carefully. Of course, the no. 1 selection criterion should be quality. Just like the gin, even very good tonics vary more than you may think. There are light ones, flowery ones, fruity ones and so on. When mixing, the rule is: "Like for like" - which means that a light gin tastes best with a light tonic, and I would mix a complex, sharp or spicy gin with a dry tonic.
For the drink decorations, I always look at the botanicals contained in the gins. A gin with a thyme note, can for example be decorated with a sprig of thyme.
On that note: Have fun tasting, and hopefully see you soon in the Josefa Bar. Cheers!
Sandras Gin Tonic Recommendations
The Duke
Thomas Henry, Orange zest
€ 12,00
Somm 16
Thomas Henry, Lemon zest
€ 15,50
Monkey 47
Fentimans, Orange zest
€ 15,00
Granit
Fever Tree, Lime
€ 14,50
Gin Sieben
Schweppes dry, Lemon zest
€ 13,00
Liebl Bavarian dry Gin
Fever Tree, Ginger
€ 13,50
Ferdinand´s
Thomas Henry, Thyme
€ 13,00
Bavarka
Thomas Henry, Lemon zest
€ 13,50
Soul of Bavaria
Fever Tree, Mint, Lemon zest
€ 14,50
Madame Geneva Gin Rouge
Fever Tree, Lemon zest
€ 12,00
Illusionist
Thomas Henry, Rosmary
€ 15,00
Niemand
Fentimans, Apple
€ 17,50
Elephant
Thomas Henry, Apple, Ginger
€ 15,00
Elf58
Fever Tree, Grapefruit zest
€ 15,50