Probably the World's smallest Brass Band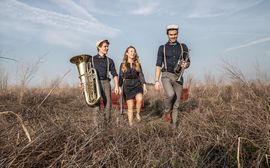 DIE FEXER – Traditional meets Modern
Bavaria without brass music is like the Octoberfest without beer. You just can't have the one without the other: the tones of the tuba, trumpet and horn have always been part of Bavarian culture. And, for more than 15 years, one very special musical trio has been giving this genre a modern slant: DIE FEXER combine traditional brass music with contemporary arrangements, captivating audiences far beyond the Bavarian border.
Known as probably the world's smallest brass band, Die Fexer have been touring Germany for about 8 years, playing concerts where young and old alike can't help but hit the dance floor. Together, Alex, Sophie and Daniel take the rhythms of the polka, waltz or real rock numbers and give them a completely new twist by playing them on brass instruments. Their goal is to be ambassadors for contemporary brass music.
Ambassadors for the Bavarian Tourist Board
Since the beginning of 2022, the three young people from the town of Berngau have been proud to represent their home region of East Bavaria as ambassadors for the Bavarian Tourist Board. In a range of videos such as their "living room concert", and during personal appearances, they provide an intriguing insight into Bavarian music culture, which, thanks to their new interpretations and youthful charm, goes far beyond simple classic folk music.
We were interested in finding out what the three of them find so fascinating about brass music, how they charm their listeners and, above all, how they work together as a small band. They answered these very questions in our brief interview:
---
You're all still really young – and brass music always feels like it has a rather "fusty", old-fashioned image. What do you love about your music so much and how do you like to captivate your audiences?
We love the variety of our repertoire. It might be hard to believe, but brass music is very diverse! It has everything from party bands to traditional brass bands. We love playing both traditional brass music and pieces from modern genres like rock or pop. This means that we appeal to people of all ages, which is our goal. Our audiences are just as diverse as our music: there are no restrictions of either age or gender. We try make sure none of our arrangements sound "fusty", not least through our enthusiasm for what we are playing.
What has been your most memorable musical experience?
There have been a lot. Each performance is special and has a dynamic of its own, no matter whether we're playing in front of 3 people or 3000. But the highlights have definitely included the "Brass Music Woodstock", "Brass Octoberfest Festival", and our shows in China, Canada and Dubai, where we appeared as ambassadors for the Bavarian Tourist Board.
What kind of audience do you prefer and what is your favourite type of concert-goer?
That's very easy to answer: audiences that find our music fun. We have all been making music since we were children, and have grown up with it, as it were. We are always happy to share our passion with people who love it as much as we do.
What type of people are you and what really annoys you?
All three of us are very easy-going and take things as they come. Unless there's nothing good to eat – that's one way to annoy us! But luckily that has never happened to us at an Ayinger venue!
Does each of you have a fixed role within the group and how do you get on with each other?
We get along very well – there are very few arguments. After 18 years of playing together, in many ways we are a well-established team.
Alex deals with our bookings and manages our social media presence. He is the one that plays the solos and melody parts. Sophie also makes some of the bookings and takes care of our finances. She plays the harmonies and the chords of the contemporary songs, i.e. the intermediate melodies. Dani is our frontman and tuba player. He introduces the songs during our performances and writes all of our arrangements. In other words, each one of us has found their niche, which allows us to function together perfectly – and, above all, allows us to combine DIE FEXER with our lives outside the world of music.
---
DIE FEXER in the Ayinger pubs
If you would like to see DIE FEXER perform live in Munich, be sure to check our PLATZL event calendar regularly. Just like DIE FEXER, our AYINGER IN DER AU and the AYINGER AM PLATZL pubs combine a traditional atmosphere with a vibrant, contemporary feel, making them the perfect location for convivial gatherings with tasty delicacies and rousing pub music.