Pioneers of sustainable hospitality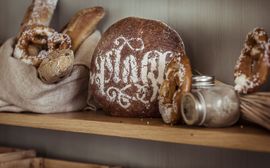 Within those values one can see basic features of the current sustainability trend. In the hospitality industry, these include for example short delivery routes, support for local producers, conservation of resources, quality instead of quantity, or the training and development of our own employees. As active, long-standing advocates of these virtues and practices, we know that the devil is in the details, even when it comes to such a broad topic like sustainability. Here are some examples from PLATZL's day-to-day operations that show that small adjustments can have big effects.
The cuisine of short distances
It's no secret that food, from meat to fish to vegetables, is sometimes shipped around the entire globe. Long transport routes of goods and constantly keeping them on low temperatures cause immense emissions and are not necessary, at least for our businesses, since there is a lot of good produce in Bavaria. Our kitchens were already relying on local producers and growers when hardly anyone was thinking about sustainability. The chefs at RESTAURANT PFISTERMÜHLE, AYINGER AM PLATZL or AYINGER IN DER AU have been in personal contact with local farmers, hunters, fish or cattle breeders for years. The longevity of those partnerships and physical proximity allow for great quality, short delivery routes and thus also the highest freshness. Finished products such as cheese, baked goods, mustard, coffee, tea, jams or even some spirits come from regional manufacturers and are sometimes even produced exclusively for our businesses..
Artisanship and quality
The idea of sustainability also contains aspects that directly counteract the throwaway mentality. 'Fast fashion' or 'fast furniture' stress natural resources and lead to massive waste problems. At PLATZL, we go in the other direction and try to restore existing materials in a sustainable way - as happened, for example, in the RESTAURANT PFISTERMÜHLE. There, the decades-old ceilings and floors were refurbished as was the upholstery. At MARIAS PLATZL, items from the flea market such as porcelain plates were salvaged and became an essential part of the design. As a matter of principle, we engage local craftsmen who work with regional woods, textiles and other high-quality materials.
We also attach great importance to artisanship in our kitchens. Almost every kind of food you get served was actually created by our chefs. Not only are these creations tastier, they help our chefs to really develop their craft.
Water, our most precious commodity
The global bottled water business is worth around 300 billion euros. At the same time, thousands of tons of plastic waste are produced, poor countries suffer from a shortage of drinking water, and the associated logistics pollute the air. This is even more mind-boggling, when considering the excellent drinking water quality, most Central European countries provide. To break the circle at least on our side, you will find specially designed PLATZL bottles made of glass in the rooms of our Munich hotels. Those we fill with tab water for you, clean after use and refill for the next guest. This saves us around 40 liters of bottled water per day, which amount to around 100 delivered Euro pallets per year.
But that's not all: water is also heavily used by hotels due to the daily laundry, which is why we now only change bed linen every three nights. As a result, the volume of laundry has fallen by a third since the measure was introduced. In addition, we use only biodegradable dishwashing detergent from 100 % recyclable canisters in all areas.