Pillow Talk – New comfort thanks to the Mühldorfer brand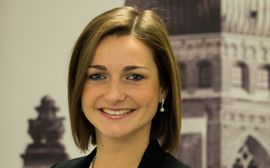 Sophie, why has the PLATZL HOTEL decided to use the Mühldorfer brand?
It is now becoming even more important to distinguish oneself from other hotels – in doing so we are relying upon regional partners among other things. The bed company Mühldorfer, a family-run business just like us, has exactly the same high demands for quality as we do, and the guests notice that immediately.
You could say that there is no other brand on the market manufacturing to a higher standard.
Many people would say 'a pillow is a pillow'. Why do we offer so many different kinds?
Because that is not true at all. Every type of stuffing, every shape has its own individual characteristics. You quickly notice that when you are travelling and you do not have your usual pillow with you. It is all the nicer then when you can choose. It is also an opportunity to just try out something else without having to pay for it.
What type of pillows can our guests look forward to?
In addition to the standard downs and anti-allergy pillows, we also offer neck pillows for men and women. The different lies in the material and therefore in the softness as well. Those for men are made of latex and the ones for women from gel foam.
On top of these, there is also the cool-down pillow which regulates your body temperature though the pillowcase. The pillowcase of the anti-aging pillow is equipped with vitamin E and helps with regeneration during the night.
What has the feedback been from guests who have already enjoyed our new pillow menu?
The feedback has been thoroughly positive. Particularly the neck pillows for women have been well-received as they are far from commonplace and are a great alternative. When you are traveling you want to treat yourself a little and that starts with sleeping, which our guests appreciate.
The best thing is that all the bedding including the special pillows can be directly ordered from us. The process is very simple and the products are delivered (worldwide) directly to your home.