MUNICH'S FAMOUS REICHENBACH BRIDGE KIOSK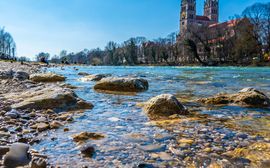 In the warm summer nights, long queues of students, housewives, business people, singles, couples and senior citizens can be found at the kiosk preparing for an evening of relaxation on the Isar meadows with a purchase from the kiosk on the neighbouring bridge. Lively conversation, gossip and other stories are shared by locals and tourists alike as they wait their turn. The little shop offers cold drinks and everything else needed for a perfect time on the beautiful Isar meadows – what could be nicer than relaxing on a warm summer's day hanging one's feet in the fresh water of the Isar and sipping a cool beer?
But it's not just in the summer that the kiosk on the Reichenbach Bridge is the perfect meeting spot for young and old to chat and flirt. Even in winter, the kiosk is there 23 hours a day ready to satisfy almost every wish.
The kiosk is known not only for this almost constant opportunity to shop, but has also reached something of a cult status in recent years. It is the only kiosk of its kind in Munich and is no longer the secret it once was. There's hardly a local who hasn't heard of this shop or who hasn't stood in line there at least once.
The opening hours are seven days a week from 6:00 am to 5:00 am. The kiosk offers a rich assortment of goods from beverages, liquor, beer, wine, champagne, ice cream, milk, eggs, coffee, frozen entrees and toiletries all the way to fresh baked goods to pet food, international newspapers and magazines.
picture source: Markus Thierer
You can reach this stand in the heart of Munich with subway lines U1 or U2 to the Fraunehoferstrasse station; with streetcar line 17 to the Frauenhoferstrasse stop, or with the suburban trains to Isartor.