Human Resources representative Katharina Schmid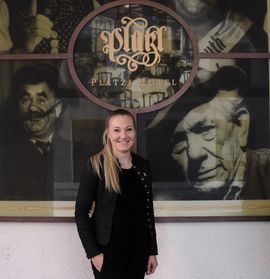 How long have you been at the Platzl Hotel and when did you start working at the HR office?
I have been at the Platzl since 2009, but with a break: I completed my training as a hotel specialist at the Platzl Hotel from 2009 to 2012. I then worked for a year in the reservations department. I find both the technical and the commercial side of the hotel industry fascinating, so in 2013 I decided to go through further education to become a certified hotel manager. As this entailed two years of full-time studies, I had to leave the Platzl. I returned in December 2015, and I have been working at the HR office since.
What made you go back to the Platzl Hotel?
When I finished my studies, I knew that I wanted to pursue a career in the HR department. Our industry heavily depends on good employees, and they should be encouraged, supported and – of course – kept. How the employees' wellbeing affects customer satisfaction is something that I found incredibly fascinating.
Through our HR manager Mr Maliardis, who I was regularly in touch with during my further education, I found out that they were looking for a Human Resources representative at the Platzl. As I had always highly valued the Inselkammer family as employers, I wanted to return and I seized the opportunity.
What does a "normal" working day for you look like?
Of course, every day is a little different, but here is a brief overview of my duties:
Placing and monitoring job descriptions
Processing applications and organizing job interviews
Preparing our new employees' first days (contract signing, initial training schedule, welcome day)
Supervision of apprentices (contact with the Chamber of Industry and Commerce, vocational school, apprentice meetings, trips, training, transfer plans)
Supervision of trainees at the hotel (we have between 30 and 40 trainees per year)
Trade fair appearances (recruiting and apprentice fairs in Munich)
Collaboration on monthly pay slips and their preparation
Preparing employee resignations (certificates, organizing the check-out, forwarding documents)
Good staff is important in every industry, but in the hotel industry this is particularly the case. Employees are in touch with the guest and, for this reason, skills such as empathy, cordiality and charisma are particularly significant. How do you manage to develop these skills at the Platzl Hotel and to select suitable employees in the first place?
That's right, cordiality and charisma combined with specialist skills are particularly important in our industry. At the hotel, we manage this with our staff development. Arete Schäffler is the hotel's quality and training manager, who I work closely with. On a monthly basis, we think about what training requirements our employees and apprentices have and how we can train them, whether with our own specialists or with external specialists.
In the application process, it is easy to tell which applicants have made an effort in their applications and whether they have a real interest in a position with us. Our first impression during a job interview also counts, of course – this is where you can see and feel the cordiality and charisma of a particular applicant.
After the interview, we invite every candidate to a "trial working day". We see this as a day to get to know each other. On this day, the applicants can also see for themselves whether they feel comfortable in our hotel and whether they get along with colleagues and superiors. On this trial working day we also watch the applicant closely, and then discuss with the respective department manager on whether they can see them working on their team.
Perhaps there are some readers who would like to work for the Platzl Hotel: Do you have any brief application tips to increase their chances of being hired?
I think it is important to be passionate about your job and to enjoy being a host. If you can already convey that in your application, it is a great first step. It is also important that your application is complete and free from errors. A CV without gaps would be ideal, but if there is a gap, it would be a good to give an explanation for it. In the interview, it is still essential that you appear respectable and that you arrive on time. Since we have been a family-run hotel for generations, applicants should do some research beforehand – as they try to work for this family business. With an open, honest and friendly attitude, you'll have the best chances of becoming part of the Platzl family.
We look forward to many great applications!