Enjoy cake like at grandma's in the Platzl Hotel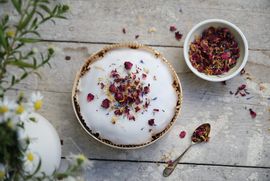 "Kuchentratsch" (cake and chat) – a social start-up
Together with Katrin Blaschke, Katharina Mayer founded the start-up Kuchentratsch. Around 30 seniors who are retired or pensioners bake in the Kuchentratsch bakery on the basis of a €450 wage. On one hand, a nice financial extra income, on the other hand - and this is much more important for most retired people and pensioners - they have a concrete role. Something that many seniors miss after leaving work. Another aspect that is extremely important for many "Kuchentratsch-Grannies and -Grandpas": While baking they meet new people, have regular social interaction and enjoy the beautiful feeling of togetherness. While there is now an excellent range of cakes in Munich again, Kuchentratsch also fulfils a social purpose.
These cakes are available at Kuchentratsch
The "Baking grandma's" and "grandpas" are not obliged to stick to any recipes at Kuchentratsch. That would make the baking less fun for one thing, and for another, the cakes probably would not taste half as good. Instead, everyone brings their favourite recipes into the bakery, and so there is an astonishing selection from nut corners to cheesecakes and apple cakes, right up to wedding cakes. Even whole packages for special celebrations can be ordered from Kuchentratsch, and so cafés and even hotels have become regulars.
Cakes like grandma makes, at the Platzl
Platzl Hotel is one of them – we buy up to 15 cakes per week, because we are impressed both by the quality and the philosophy. At Kuchentratsch, regional ingredients such as flour from the "Meyermühle" or eggs from Seepointerhof are prepared by hand.
The big hit here at the Platzl Hotel is grandma Irmgard's carrot cake – come and enjoy the cakes that you cannot buy anywhere else.
Picture source: https://www.kuchentratsch.com/pages/presse