DALLMAYR: TRADITIONAL SPECIALITY HOUSE IN THE HEART OF MUNICH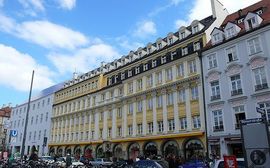 The name Dallmayr stands as the epitome of delicatessen of the highest quality, premium coffee and tradition. The origin of the "specialty store" Dallmayr can be traced back to the year 1700, the company, which has become one of the leading delicacy stores in Europe, has its present name since 1870. Even if the owners changed over time – today Dallmayr is still family owned. Dallmayr became famous with the coffee roasting company, which operates since 1930. Then, as today, the freshly roasted coffee is sold loose in the store and the desired quantity is packed and weighed individually. The seductive aroma of coffee and the nostalgic ambiance of the store offer a very special shopping experience. Highly recommended are the café and bistro, as well as the two-star restaurant Dallmayr.
From the Platzl Hotel Munich you can reach the Dallmayr in just a few minutes. Of course we also serve in the Dallmayr coffees!
For further information about Dallmayr please visit the official website.