Bi PHiT@Platzl 'Functional Training' and wellness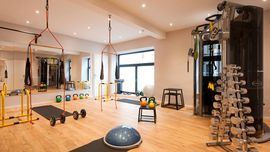 The fitness experts from 'Bi PHiT' run these classes for us.
Because our team is so inspired by Bi PHiT-Training, we decided to further enhance the collaboration.
Bi PHiT@Platzl – for hotel guests and Munich residents
First of all, the PLATZL HOTEL underwent some renovations: A room on the top floor was transformed into a gym, with dumbbells, cable stations and fitness mats. This means that the top fitness trainers from Bi PHiT now also have the option to offer their classes directly in our hotel.
A service which both hotel guests and our Munich neighbors can make use of!
Whether you practice effective muscle building, specifically improve your stamina, or want to do more relaxed flexibility and coordination training - the exercises will be individually adapted to your needs.
'Functional Training', wellness massages and more
The training philosophy at Bi PHiT follows an exciting trend: In 'Functional Training', equipment and machines are dispensed with - instead the person working out uses their own body weight to build up muscles, for more flexibility or stamina.
Apart from 'Functional Training', we now also offer wellness massages at the PLATZL HOTEL. Competent massage therapists from Bi PHiT treat deep muscle tensions and take care of connective tissue, circulation and energy flow.
You can use our wifi throughout the whole fitness and relaxation area, and for a fitting end to your day of fitness, we will welcome you to our bar for a wellness cocktail.
Interview with: Diego Bichler (Managing Director Bi PHiT)
Bi PHiT and the PLATZL HOTEL are the new fit 'Dream-Team' in the heart of Munich. We asked Platzl Manager Heiko Buchta and Bi PHiT Managing Director Diego Pichler what the common future holds.
Mr Bichler, what is the advantage of 'Functional Training' and why does this trend replace the usual workout with equipment?
The advantage of 'Functional Training' is that muscles are not trained in isolation as they are with equipment training. Therefore, whole movements and movement sequences can be learnt and improved in this way. This means that the workout itself is significantly more efficient.
This way, everyday situations, such as sitting down and standing up, are simulated with a knee bend. The trend also comes from the dynamic that guarantees fun and training motivation, which is only possible through self motivation in normal equipment training.
Mr Buchta, why does the Bi PHiT philosophy fit in so well at the Platzl?
We were looking for equipment for our gym area and for practical examples. That is how Diego and I got to know each other. I did a trial session myself and was inspired by the style of training (even though it is a difficult path). It is not about quick muscle building, but sustainable training, which has a positive effect on the body. It is also nice, that BiPHiT is a Munich company where the people are the focus. Until now, we in the PLATZLHOTEL have not had any sports offers in our portfolio, which is why Bi PHiT was my first choice – for our employees too. We offer them a workout twice a week.
Mr Bichler, which guests would you particularly recommend wellness massages to, and what are the effects of these special treatments?
Any guest who wants to treat themselves to a little time out. Especially to escape day to day working life, it makes sense to do something good for your body and soul. The massage gives the customer fresh energy and has a deeply relaxing effect. Furthermore, it promotes the circulation in the muscles and loosens adhesions in the tissue layers. After the massage you feel fresh and relaxed.
Mr Buchta, can guests look forward to fitness cuisine on the Platzl menu in future?
First of all, we want to see how the offer is received by Munich residents and our hotel guests. But we have already thought about drinks and snacks... It's going to remain exciting here at the PLATZL HOTEL :-)