The festival tent hosts are moving in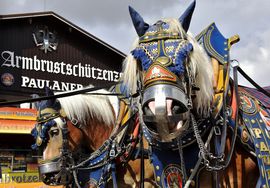 'O'zapft is' (it is tapped) – who does not know the ceremonial cry after the beer barrel tapping? It signals to the festival tent guests, that the 'liquid gold' is now finally flowing at Oktoberfest. However, before Munichs Senior Mayor in office says these words at around 12 a.m., a festival tradition takes place every year, which gets the guests in the right Oktoberfest mood: The festival tent hosts moving in. Find out what this custom is all about:
How does the moving in of the festival tent hosts proceed?
Even before the festival tents open at 10 a.m. and the guests spread themselves out on the beer benches inside, the traditional coach and horse teams form 2 kilometers away in Josephspitalstraße. Around 10.45 the procession starts via Sonnenstraße, Schwanthalerstraße and Bavariaring in the direction of Theresienstraße. By the way, the first communal moving in of the festival tent hosts took place in 1887.
Who moves in with the festival tent hosts?
The procession is led by the 'Münchner Kindl' (Munich's Child – the heraldic figure of the city). He is followed by the Senior Mayor of Munich, Dieter Reiter, before the coaches of the big festival tents become visible to the spectators. The festival tent hosts mostly present themselves in highly creative ways: Floral decorations and beautiful garlands highlight the festive character of the coach and four. The whole thing is accompanied by traditional brass band music, and many cheering spectators, who are watching the spectacle from the roadside.
When is the first beer available?
Whilst the procession moves in the direction of Theresienwiese, the very first annual Oktoberfest guests are already sitting in the tents. However, it is fixed, that the first beer is only served, after the festival tent hosts have arrived in all the tents. This is followed by some celebratory words, and on the stroke of 12.00, the beer is tapped. In the Schottenhammel tent, the Lord Mayor does this, but in most other big tents, the host takes over this honour – like our Peter Inselkammer in the crossbow shooters tent. The festival tent host of the Winzerer Fähndl accompanies this ceremony with the words: "We count down, and then the beer flows".