BEAR-SIZED OFFSPRING IN HELLABRUNN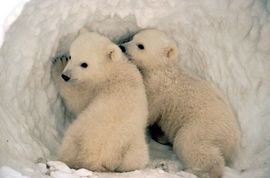 The Tierpark Hellabrunn (Hellabrunn Zoo) has been pleased to have twin off-springs in the polar bear enclosure for half a year now! On 9 December last year their mother Giovanna brought the two little ones into the world. But as baby bears are considered particularly sensitive, and unnatural stimuli could endanger them, the public was initially only allowed to participate in the young lives of the cute twins via a video diary. Overall, the birth and development of the twins was an unprecedented media event, because a polar bear birth was recorded in colour for the first time worldwide.
This was followed by almost daily videos—including cuddles, first drinking, and attempts to walk or the mother giving them a licking bath–in which Internet users received touching insights into the bear family life. It was a fascinating project that illustrated the rapid development of babies: born barely half as big as a human infant, on the day of their first outdoor foray they had already achieved the dimensions of an English bulldog. It was the 19th of March, when after 14 weeks of age the polar bear twins and the mother and children's home was shown live to zoo visitors. In April, followed by the double 'baptism', the right godparents were chosen from among more than 20 applications. Do you also want to get to know Nela and Nobby? Then visit the Tierpark Hellabrunn, which is open 365 days a year for you between 9 am and 6 pm — especially now in the summer, the best time!
The exact opening times, a zoo plan, and tips for convenient directions can be found <link http: www.hellabrunn.de en munich-zoo _blank>here.
We at the Platzl Hotel wish you animal fun ☺
Picture Source <link http: www.platzl.de blog hotel-muenchen files dsc_7615-4.jpg _blank>ice bear: U.S. Fish and Wildlife Service Headquarters