TAFELSPITZ AT THE PFISTERMÜHLE RESTAURANT – A TRADITIONAL PIECE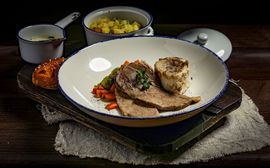 The origin of the name "Tafelspitz"
The original meaning of the word "Tafelspitz" denotes the rump of beef, which tapers at the rear and is famous for its tender meat. In addition, it is a well-known and very popular speciality of Viennese cuisine. The name has its origin in the Bavarian-Austrian dialects and is often confused with "Krenfleisch", which is usually prepared with pork and strongly flavoured. The "Tafelspitz" is commonly the tail end that is cooked with greens and water or beef stock and comes with several side dishes, such as roast potatoes (Kartoffelrösti), apple-horseradish and chives sauce.
The roots of "Tafelspitz"
Beef was already very popular back in the 15th century, especially in Vienna . Besides bread, it was one of the most important and at that time affordable food products of the urban population. However, nowhere else except in the imperial city of Vienna was the proper slaughtering of cows a true art and real connoisseurs knew precisely the differences between various beef specialities, such as Tafelspitz, braised leg, Tafeldeckel, Kavalierspitz, Schulterscherzel, Brustfleisch and similar exotic varieties.
One of today's most famous dishes of the Viennese dining culture is – besides the Vienna Schnitzel – the Tafelspitz. Its fame was ultimately determined by Emperor Franz Joseph the 1st. The Emperor was very thrifty and therefore wanted the most price-worthy beef to be served every day. However, his chefs used particularly good pieces of beef and hence boiled beef drove the chefs to their highest performances.
Enjoying Viennese tradition in the heart of Munich
Recently, it's been possible to enjoy this culinary highlight in the heart of Munich's old town. In the Restaurant Pfistermühle, the original Viennese Tafelspitz is prepared in its traditional form and of the highest quality. To ensure this, it is freshly prepared every day and served at your table in copper pots. First the broth with Weißwurstnockerl (Bavarian white sausage dumplings) or homemade pancake strips are served. The main course consists of beef Tafelspitz with boiled root vegetables. As side dishes, complementary homemade delicacies such as Rösti (roast potatoes), Apfelkren (apple -horseradish) and chive sauce are served along with a fine selection of Austrian wines. All of this is topped off with boiled bone marrow and freshly roasted farmer's bread.