THE MUNICH OPERA FESTIVAL – A CULTURAL DELIGHT WITH TRADITION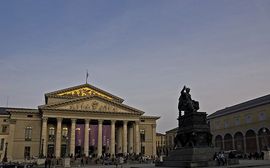 The annual Munich Opera Festival is the highlight of the concert season. Every year, opera lovers from around the world are drawn to the Bavarian capital to witness this international and most traditional festival of its kind.
The festival is held jointly by the Bavarian State Ballet and the Bavarian State Opera. With more than 30 opera performances, recitals and ballet performances, the festivals are an incomparable and diverse cultural experience where every classical enthusiast gets their money's worth.
Venues reserved for the event include the: National Theatre, Prince Regent Theatre, Cuiviliés Theatre, Allerheiligen-Hofkirche, Modern Pinakothek and the Hofbräuhaus Ballroom.
The story of the opera festival dates back to the 19thcentury when it was initiated in 1875 with a performance of Wolfgang Amadeus Mozart's opera and various dramas by Richard Wagner. Due to the festival's great popularity the citizens called for their own festival hall and thus, on 21 August 1901, the Prince Regent Theatre was opened, which was sponsored by the art enthusiastic Prince Regent Luitpold.
The Society for the Promotion of the Munich Opera Festival has supported the event financially since 1958, and every year since 1965 has been awarded a festival prize. Moreover, every year a concert and opera evening under the motto "Opera for everyone" is staged on the Max-Joseph-Platz in front of the National Theatre. There are no admission charges and thus the event draws many visitors of all ages.
This year, the Munich Opera Festival is taking place from 23 June to 31 July and offers a variety of high-end programs. This year's focus point is Richard Wagner's "Ring of the Nibelung" and its new production by Andreas Kriegenburg. The premiere of the first three parts of the Nibelung Saga were already celebrated during the 2011/2012 season, and this year, the festival premier of Götterdämmerung (Twilight of the Gods) will culminate as the opening highlight of the Munich Opera Festival. In different places and at various performances, the summer opera 2012 will focus on Richard Wagner's "Ring of the Nibelung".
The Platzl Hotel Munich is looking forward to this cultural highlight and offers rooms in the heart of Munich's old town, just a short walk from the festival's main venue. Book your stay in the Platzl Hotel at www.platzl.de and experience an unforgettable event.