Love for the hops: Welcome to the restaurant Wirtshaus Ayinger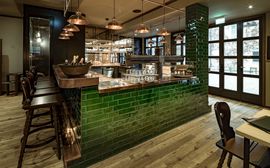 The restaurant seamlessly fits into the Hotel MARIAS PLATZL, which also opened this year, and is unique in its kind in the Au district of Munich.
Why "Love for the hops"?
As the first official tavern of the AYINGER PRIVATE BREWERY in Munich, it was important to the managers, Peter and Franz Inselkammer, that the 'liquid gold' be the focus of the new concept. The Ayinger beer specialties flow directly from the cooled wooden barrels into the glass. The counter is also completely copper-plated and together with the green brick design, the bar area of the restaurant, which can accommodate up to 130 guests, is reminiscent of a brewery cellar. In summer there is also a tavern garden serving a further 130 guests.
The philosophy is of course complemented by the hotel MARIAS PLATZL with the motto "feeling of home", which was opened a few months ago. Many design elements both in the restaurant and in the hotel are in remembrance of the living room of Grandma Maria Kreszenz Inselkammer, who died in 2001 and who gave her name to the project and also inspired it.
A homely treat like Grandma Maria's
Guests who find their way to the AYINGER IN DER AU should feel like at home with Grandma Maria. The interior designers of the company DREIMETA sacrificed many a Saturday in search of ornamental plates and other decorative objects at flea markets. The goal: coziness without appearing artificial! This is not only true for the ambience, the cuisine also combines high standards with down-to-earth modesty. For the menu, the dedicated chefs were specifically inspired by home-style food, which also used to be on Grandma's table. At the same time, however, current culinary trends are not neglected. You can look forward, for example, to deer scraps from own hunting or freshly caught fish specialties from the Upper Bavarian fish farm Birnbaum. As you can see, regionality, tradition and a love of detail are important to us.
Try your luck at the Wirtshaus Ayinger in der Au
Please do not miss out on our opening prize game. As already mentioned, our sense of tradition is always anchored in current reality, which is why we do not shy away from modern media. On the contrary - we at PLATZL love to exchange information with our guests via social networks.
So follow us on Facebook and Instagram and do not miss any special menu, event or action at the WIRTSHAUS AYINGER IN DER AU.
On January 4th, 2019 we will raffle off a 10 liter wooden barrel including a refreshment platter for up to 10 people amongst all followers in the new AYINGER IN DER AU. So seize your chance for a delightful evening of indulgence.