THE MOORISH KIOSK AT THE PLATZL HOTEL MUNICH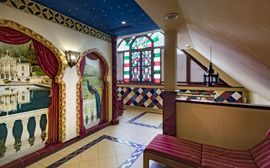 After a day of rich experiences in the Bavarian capital, you will find in the Platzl Hotel Munich a place to relax and rest.
The Moorish Kiosk is a calm space with a heat bench, light therapy, music, a solarium, as well as a wet area with sauna, aroma therapy bath, foot baths and experiential showers. There is also a fitness centre with treadmills and bicycles for your workout. Enjoy the middle-eastern ambience of the spa on the fifth floor and submit to a journey of the senses far away from the hectic pace of everyday life.
The Moorish Kiosk in the Platzl Hotel Munich is modelled after the Moorish Kiosk acquired by King Ludwig II at the 1876 Paris World's Fair. The king then had the interior decorated with a marble fountain and a luxurious peacock throne and had the kiosk set up in the gardens of his Linderhof Palace, where it can still be seen. The Platzl Hotel Munich offers you a grand middle-eastern oasis of relaxation right in the middle of Munich.
The fitness centre and relaxation area is open daily from 7:00 am to 10:00 pm. The sauna and the steam bath are open Mondays through Fridays from 3:45 pm to 10:00 pm, weekends and holidays from 9:30 am to 10:00 pm.
Your room key gives you free access to the relaxation area where you can reenergise and relax for a few days in Munich.