The Highlights in Munich in May 2011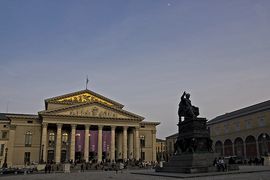 Shows & Concerts in Munich
The Long Night of Music, Munich (28th May, 2011)
http://www.flickr.com/photos/neudinho37/212890563/Imagine a beautiful spring night in the inner city of Munich, illuminated with hundreds of small lights, crowded with thousands good-humored people who stroll omitted through the streets and from every corner of the city will sound a different tune, which makes this evening even more beautiful.
This unique atmosphere is preparing the residents and visitors an unforgettable evening with 400 live concerts on 100 stages in one night, this year on 28th May for the 11th time. The acquisition of a combined ticket (15 €) includes entry to all events and the use of the MVG shuttle buses that stop at all event locations. Plan your own individual concert tour or let yourself drift through a beautiful evening in Munich.
Culture & Events in Munich
26. DOK.FEST. Munich (04th to 11th May, 2011)
In the last 25 years, the DOK.FEST developed into the nation's largest and most prestigious documentary film festival. Every year around 13,000 people attending the Munich cinemas to explore the unknown or to consider the known from a different angle. This year, people interested in documentary may look forward to 90 films from 38 countries which are transmitted at seven different venues in Munich. Furthermore, all visitors are invited to a discussion with the experts at the Dok.forum. Enjoy lots of interesting impressions and get the opportunity to have a say!
Spring Festival, Munich (29th April to 15th May, 2011, Theresienwiese)
Moderate prices, interesting events (such as the giant flea market or the vintage car meeting) and a lot of fun promises a visit on the Spring Festival – often called as the "little sister" of the Oktoberfest . Read further information about the festival here >>
Worth a visit in each month:
The Bavarian State Opera in Munich – One of the most famous opera houses of the world
http://www.platzl.de/blog/hotel-muenchen/files/2011/04/Nationaltheater.jpgJust a five-minute walk from the Platzl Hotel is the most important venue of one of the best opera houses in the world: the Bavarian State Opera in the National Theater. In the architecturally attractive buildings numerous performances take place every year. One of the highlights is the annual Opera Festival, this year in late June. If you are interested, we would recommend you to already purchase a ticket and as well as to book a hotel room.