The Highlights in Munich in June 2011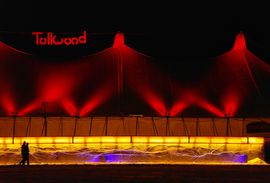 This year the focus will be on the premiers Saint François d'Assise, Olivier Messiaens "Exploration of the mystery of faith" (on July 01, 2011) and Mozart`s early work "Mitridate, Rè di Pontp" (on July 21,2011)
Information about the festival premiers and the rest of the program, see www.bayerische.staatsoper.de
Tip: Book your hotel room and reserve tickets soon in advance.
The Tollwood Summer Festival, Olympic Park Munich (June 30 to July 08, 2011)
http://www.flickr.com/photos/wm_archiv/2734241181/The culture festival in Munich is aimed at promoting multi-cultural society and having a positive influence. Since 1988 two festivals about tolerance, internationalism and openness are held each year. The aim is to make culture accessible to all. This is the reason for why the majority of events are free of charge and the entrance fees of big concert events are significant below the usual market price. As every year about 1.5 million visitors will enjoy a lot of cultural entertainment, music experiences and a catchy variety of theater productions this summer. Get the latest news from the world of arts and culture, gather new impressions and feel the "oie de vivre" in the charming city of Munich!
853 Years of Munich (June 18 and 19, 2011)
Since 23 years the locals celebrate the foundation of Munich with a two-day festival in June. Every year there is a big open-air event for thousands of visitors in the inner city. A colorful mixed show with good music, dance arts, cabaret, street artists / musicians, walking acts and a lot of surprises and attractions is offered.
Of course a "birthday party" must not miss good food. Therefore the local hosts provide Bavarian specialties, international cuisine and even specialties of the Middle Ages for the culinary wellbeing of the birthday guests. Come along and celebrate Munich's 853rd birthday with us!
Shows & Concerts in Munich
Eagles Concert, Königsplatz Munich (June 26, 2011)
Known as the "Taj Mahal" of the history of Rock`n Roll the Eagles are not only a rock-band but true legends of rock music! Besides Michael Jacksons "Thriller" their album "Their Greatest Hits" is the most selling album ever!
28 years after this legendary album they are finally back with new songs and cast a spell over their fans in Germany. As a part of their tour through Germany, the concert in Munich takes place on June 26. Enjoy an evening with this unique Band that has influenced music in so many ways and sing-along "Hotel California" while reveling in memories.
Bon Jovi Concert, Olympic Stadium Munich (June 12, 2011)
The Band is already on tour since spring 2010 and finally they are coming to Germany. Bon Jovi fans and rock lovers shouldn`t miss this spectacular event with one of the most successful rock-bands in the world. In the occasion of the release of their newest album "Greatest Hits" Bon Jovi will perform the best songs of their long music career and grant you a beautiful "rocking" night!
Elton John Concert, Olympic Hall Munich (June 14, 2011)
"Even as there were several grandiose keyboard players that time, Leon was always the one who impressed me the most. For me he has always been an exceptional musician" says Elton John enthusiastically. He is talking about Leon Russell. This may have been the reason why Elton John insisted so much to work with him. And after two years of togetherness in the studio they released their new album "the Union" with beautiful sounds! Let yourself be inspired by the new album and the greatest hits of Sir Elton John. Live in the Olympic Hall in Munich!
Herbert Grönemeyer Concert, Olympic Stadium Munich (June 21, 2011)
In his first concert in Munich Herbert Grönemeyer performed for just ten viewers. Today he fills stadiums, for example the Olympic Stadium in Munich.
With his new album "Schiffsverkehr" the superstar of the German music scene will take his audience to an emotional journey that brings a lot of fun and also invite them to reflect. With the most beautiful songs of his long music career as well as the songs of his new album, an excellent band and a captivating show, his fans in Germany will enjoy a memorable evening this summer.