The Bavarian State Opera in Munich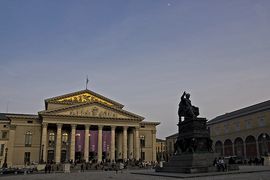 The history of the Bavarian State Opera in Munich
http://www.platzl.de/blog/hotel-muenchen/files/2011/04/Nationaltheater.jpgMunich was one of the few cities with a public opera house in 1657. But for a large audience the house with just 560 seats was too small and so the need for a large yard – and National Theatre rapidly increased. The Bavarian State Opera in Munich was built from 1810 till 1817 and in 1818 ceremonially opened. Since then, there were two major low points in the history of the building: a big fire and the destruction during the 2nd World War which made a reconstruction necessary. Although the construction of a new theater would have been much cheaper for the city of Munich, the residents didn't want to lose the magnificent building at the Max-Joseph-Platz.
1883 the Bavarian King Ludwig II brought the great and talented Richard Wagner to Munich, who had previously enchanted the art-loving king with his work two years ago. Due to the performances by Richard Wagner came a time of glory and fame in the history of the Munich Opera. With numerous world premieres, such as Tristan and Isolde, the opera house left its marks in the world of opera.
Today, the Bavarian State Opera in Munich is one of the most renowned opera houses in the world and can now look back on almost 200 years of history.
The architecture of the Bavarian State Opera in Munich
With 2,500 square meters stage area the National Theatre has got the world's third largest opera stage. Today, 2,100 viewers can take place inside the theater. An impressive Royal Box is the center of the roundel. The classical Greek decorated entrance area is held by grand columns and the exterior of the National Theatre is reminiscent of a Greek temple.
Performances in the Bavarian State Opera in Munich
Every year nearly 350 operas and ballets take place in the State Opera in Munich. Overall, numerous guest have already seen more than 1,700 significant world premieres on this huge stage. The highlight of each year is the Munich Opera Festival. This will take place in late June this year. Today, 35 years after the first festival, the Munich Opera Festival is one of the world's most important music festivals.
Tip: Purchase your tickets soon in advance and book a hotel room in Munich early.