Noble taste compositions at the end of the year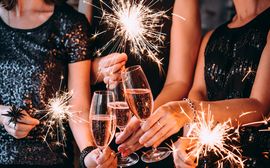 Round off the year with classy combinations of flavours
Spend a very special gourmet evening in our unique RESTAURANT PFISTERMÜHLE !
We will greet you with an aperitif, especially created for the occasion, and a small appetizer
from our "young" kitchen team.
This is followed by a real taste explosion in 7 courses:
Our chef Tino Nawrocki and his team will spoil you with the finest creations made of local
ingredients, in a perfect combination of craftmanship and passion.
To round off this festive evening, we will serve you a glass of champagne as soon as the
fireworks start to go off in the heart of Munich's old town.

APERITIF: FROM 6:30 P.M.
DINNER: FROM 7:00 P.M.
New Year's Eve gala dinner menu
MOSAIC OF CHAR WITH OSETRA CAVIAR
Crème fraiche | tomato and coriander stock | basil oil

MARINATED VENISON FILLET WITH JUNIPER BRIOCHE
Lingonberry fluid gel | radicchio | nut butter powder

CREAM CHEESE POCKETS WITH DRIED APRICOTS
Potatoes | pointed cabbage | yuzu foam

OUR SPATZL COCKTAIL
Iced | thyme snow

SLOW-COOKED SADDLE OF BEEF
Cauliflower cream | caramelised chocolate | okra pods |
fermented garlic | jus of shallots

BLUE BARON
Marinated Hokkaido pumpkin | trail mix | herbs

CHAMPAGNE ORANGE
Kumquat ragout | Valrhona chocolate | parfait | mousse
START: 7:00 P.M.
€ 145.00 per person incl. aperitif and champagne at midnight
Accompanying wine € 69.00 per person
New Year's Eve gala dinner menu | vegetarian
POTATOES SERVED THREE WAYS
Confit | cream | crispy | quail's egg | truffle mayonnaise

SAUTÉED FARRO
Wild broccoli | tomato essence | parsley pesto

CREAM CHEESE POCKETS WITH DRIED APRICOTS
Potatoes | pointed cabbage | yuzu foam

OUR SPATZL COCKTAIL
Iced | thyme snow

PICKLED BEETROOT
Parsnip puree | wild mushroom and savoy cabbage roulade |
layered potato cake | Riesling foam

BLUE BARON
Marinated Hokkaido pumpkin | trail mix | herbs

CHAMPAGNE ORANGE
Kumquat ragout | Valrhona chocolate | parfait | mousse
START: 7:00 P.M.
€ 125.00 per person incl. aperitif and champagne at midnight
Accompanying wine € 69.00 per person