INTERVIEW WITH HARKRISHAN MARWAH – PORTER AT THE PLATZL HOTEL M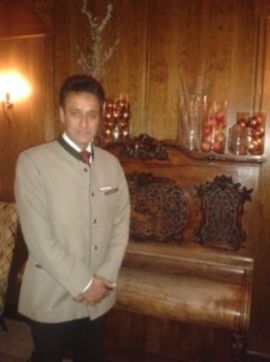 To make your stay at the Platzl Hotel Munich as comfortable as possible from the first second, we attach great importance to qualified and friendly staff. So that you can get to know our staff a little better, we want to introduce you to Mr Harkrishan Marwah. Harkrishan Marwah has been working for us as a porter for 17 years and thus takes on the role of the first and last person you see in the Platzl Hotel. He cares about the welfare of our guests and is always available to help with all requests.
Get to know Mr Harkrishan Marwah and the Platzl Hotel better:
Interview
About me:
Indian background, married in 1992 in Munich, at the Platzl since 1996. I do a lot of sport especially hiking, running and skiing!
Where I work:
Reception, Lobby
Position:
Porter
Duties:
Provide for all needs of the guests except check in and check out, luggage service, order taxis, room service, etc. Try to teach the Indian language to my colleagues (however, every day the same things over and over and over again)
Favourite place in the Hotel:
The lobby
In your opinion, what makes the Platzl stand out?
The top location, the service, the warmth
The fact that it is a family business
How will you spend the Christmas season?
Drinking organic alcohol-free light beer and snacking on Jumbo peanuts from the USA
And of course with family, friends and colleagues -> when I am not working
Favourite Christmas market in Munich:
The one in the Marienplatz , before and after work
Your personal winter highlight:
Take a relaxing walk on the frozen Kleinhesseloher lake
Your inside tip for visitors:
Beer tasting at the Beer and Octoberfest Museum.
Unforgettable moments with guests:
When you can carry on a conversation with loyal guests – How are you? What is/are the wife / husband / children doing? Long-time no see, all right? Well? Still there?
If guests recognize me and come to greet me.