Enjoy the asparagus season in Munich – with the Platzl Hotel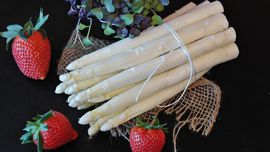 Asparagus – 'King of vegetables'
'White gold', 'edible ivory', 'king of vegetables' – asparagus has many nicknames in Germany, and each of them expresses the valuable and rare character of the vegetable. Yet what makes asparagus so special? First of all the taste: It cannot be compared to anything, and is somewhere between sweet, pleasantly bitter and delicately sour. On the other hand, the health effect is immense, which people have known since ancient times: Asparagus detoxifies, is good for the kidneys, reduces the risk of birth defects, cancer, diabetes, heart disease and even helps cure hangovers. The growing and harvesting is also a sensitive art, which is rarely carried out by machines in Germany because if you cut too close to the root-stock, the asparagus will taste unpleasantly bitter.
Focus on regional quality: Our Executive Chef at the asparagus farmer's
Because growing the 'white gold' is so demanding, there are big differences in quality. In order to serve you only the best product at the Platzl Hotel, our Executive Chef Michael Sobota went to our asparagus farmer in Schrobenhausen in person. On site he got an accurate picture of the growing conditions, enquired about the soil quality, the harvesting processes, and carried out freshness tests. Thanks to his efforts, only top class asparagus awaits you at the Platzl Hotel – unique quality from the region!
Asparagus offering at the Restaurant Pfistermühle
See for yourself, and enjoy the asparagus season in Munich, with a visit to our Restaurant Pfistermühle. When preparing your asparagus dish, our kitchen team will use the latest techniques, and so is able to transfer the high product quality of the farmer to your plate. The offering ranges from spear asparagus, classically served with new potatoes, Hollandaise sauce or melted butter, to asparagus essence with apple and char tatar, right up to asparagus risotto. Our chef recommends the 'Variation of asparagus from Schrobenhausen', as you can experience the quality and diversity of the asparagus. Take a look at the current menu of our Restaurant Pfistermühle and experience a unique asparagus dish in Munich.