Christmas Shopping Tips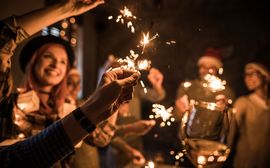 The department stores are also inviting in Advent, blazing with lights and providing special offers that will make your Christmas shopping a pleasurable experience. We would like to present to you, in detail, four of the most varied shopping locations within walking distance of the Platzl Hotel. These include a very personal recommendation of our Director Heiko Buchta.
Gorgeous atmosphere and delicacies in the Kaufingertor
Entering the foyer, you can already see the meter-high Christmas tree and the glittering garlands. The Kaufingertor in Munich's biggest pedestrian zone enchants visitors with a gorgeous winter atmosphere. The different delicatessen shops, in particular, contain sophisticated gift ideas for connoisseurs.
Fashionable Christmas shopping in the Hofstatt
Fans of sophisticated fashion are bound to get their money's worth in the Hofstatt. Some of the high-class fashion brands awaiting you in this new shopping arcade are only to be found in a few German cities. Take an afternoon off in Advent and be inspired with new gift ideas by the latest trends.
Pleasurable shopping in Fünf Höfe
Not only the sparkling ceiling décor of the Fünf Höfe makes it worth to visit in Advent. Many people come to Fünf Höfe especially because of its comprehensive range of cuisine. Stylish bars, restaurants and cafés provide the necessary relaxation for your Christmas shopping.
Day of 100 Highlights at Ludwig Beck
We have saved the highlight and exclusive insider tip of our Director Heiko Buchta until last: the Day of 100 Highlights will be taking place on November 26th in the Kaufhaus der Sinne – Ludwig Beck, only a few meters away from the Platzl. Look forward to lots of little surprises and have individual Christmas tree baubles made for you. If you cannot be there for November 26th, these decorations can be bought in Ludwig Beck as Munich district hearts.
Image source: Alexas Fotos / Pixabay